Canvas Printing
Giclée printers are capable of printing in a diverse range of media (substrates) including thick media such as canvas. Canvas can be used for virtually printing any project, ranging from personal, weddings and related imagery to fine art reproductions for either photographic and painted art.
The use of Giclée printers to make reproductions of original artwork, photographs or computer generated art  is an economical alternative compared to Offset prints as giclee prints are done by demand. Inkjet printing has the added advantage of allowing the artist to control every aspect of the image, manage color, choose a particular media plus the incredible archival capabilities of the pigment ink and media.
Our two preferred canvases are:
Exhibition Canvas Matte – Signature Series: Whether the application is photographic portraiture or fine art reproduction, This canvas will satisfy even the most demanding professional by providing both the finest image quality as well as a vehicle for enhanced artistic creativity. This unique heavyweight, quality canvas utilizes a tight weave that is ideal for photographic and fine art reproductions.
Exhibition Canvas Satin – Signature Series: is an acid free, polyester/cotton blend 390 gsm canvas that is instant drying and water resistant,and is ideal for portrait and wedding photography, as well as art and fine art markets. The low gloss surface provides an exceptional D-max with an expanded tonal range, keeping shadow details while maintaining highlights.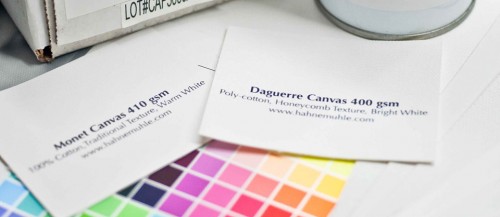 Canvas Stretching Options:
If you wish to print on canvas, there are a number of options for displaying it properly, They all contribute to the final presentation, look and  feel of your artwork or memorabilia:
Dry Mounting: The canvas will be mounted onto a hard surface to add rigidity such as Foam Core, Masonite , particularly useful when the image has been printed borderless or there isn't sufficient canvas bleed for stretch.
Regular Stretch: The canvas is printed with a white border that allows for stretching on a 3/4″ deep wooden strainer, is the conventional way of stretching a canvas and needs posterior framing in order to hide the unfinished canvas bleed and the staples on the side.
Gallery Stretch: A fashionable  way of displaying your canvas prints, it can be done in 2 presentations small 3/4″ and full 1 3/4″.  It offers a bold look while being minimalistic and clean; in order to stretch your canvas in a gallery style,  enough image bleed must be allowed so the image can be wrapped to the back.
Canvas Printing Prices

Size (inches)
Print Only (1" Border)
On Reg Stretch Bar
On a 3/4" Gallery Wrap
On a 1 3/4" Gallery Wrap
8×10
$10.00
$23.12
$30.40
$39.87
11×14
$17.25
$32.66
$41.77
$53.80
12×12
$16.50
$31.70
$40.33
$52.00
12×16
$21.00
$37.85
$48.80
$62.73
12×18
$23.50
$40.78
$50.93
$64.80
16×20
$33.00
$53.16
$65.20
$81.27
18×24
$43.50
$65.74
$79.13
$97.40
20×20
$40.50
$62.31
$75.27
$92.80
20×24
$47.50
$72.57
$87.33
$106.33
24×24
$56.50
$85.66
$101.78
$123.60
20×30
$60.00
$93.24
$109.55
$132.15
24×36
$82.50
$123.10
$144.08
$172.25
30×40
$112.00
$156.27
$180.00
$212.33
36×48
$170.00
$226.00
$243.33
$281.50
Custom Size
ask us
ask us
ask us
ask us
Gallery Wrap: the image is wrapped all the way to the back of the stretcher bar. Staples are not visible. Choose from 3/4" or 1.3/4" deep
Print Only: you image is printed with 1" white border and rolled. No stretching
These prices reflect the cost using our exhibition canvas line. For premium canvas or custom sizes pricing please contact us